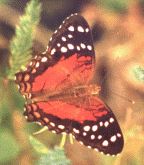 Amateur Entomologist
(Butterfly and Moth)
Dear insect collectors and web-surfers, welcome to my home page!
I am 35 years old, and my hobby is collecting butterflies and moths. I am member of the Lepidopterists' Society in USA, of AEAQ (l'Association des Entomologistes Amateurs du Québec), of Office pour l'information éco-entomologique (OPIE) and of "Association des Lépidoptéristes Parisiens" in France.

If you want to know more about me, just click here !

In order to complete my collection, I am interested in meeting other people around the world sharing the same interest.

I have also some specimen for exchange. See my list of available specimen ! Some of them have photos and my objective is to have a photo for each of them !
Please send me a mail ! in french or in english !
My collection of photos : as I can't afford most of Ornithoptera specimens, I only collect their photos ! Have a look !!!
My feeling about butterfly preservation : Preservation of insects is the new fashion around the world, and amateur entomologists are now considered as predators and no longer as scientists, forgetting that most of studies on insects have been done by amateurs and that most of specimen in museums have been given by amateurs ! Moreover, collecting butterflies save butterflies : surf on Larry Orsak site (Papua New Guinea) to read his article (Larry Orsak site (PNG) in french), or visit the butterflies aid in Kenya's rain forest . Please concentrate on conserving the habitats in which butterflies live from destruction by property agents, developers, road building, etc. Amateur entomologists don't want to be the scapegoats !!
For further information on Butterflies and relevant web links visit :


This Butterfly Ring site is owned by Laurent Lecerf
Want to join the Butterfly Ring?
Skip Prev Prev Next Skip Next Random Next 5 List Sites
Some of my partners for the marketing of this page :
Click on the graphic to vote for this
page as a Starting Point Hot Site.