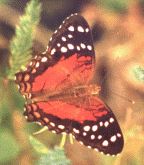 Amateur Entomologist
(Butterfly and Moth)
Dear insect collectors and web-surfers, welcome to my home page!
I am 35 years old, french from Paris, living now in Montreal (Quebec). My hobby for 20 years is collecting butterflies and moths. I am member of the Lepidopterists' Society in USA, of AEAQ (l'Association des Entomologistes Amateurs du Québec), of OPIE (Office Pour l'Information Entomologique) and of "Association des Lépidoptéristes Parisiens" in France.

In order to complete my collection, I am interested in meeting other people around the world sharing the same interest.

I have also some specimen to exchange.
Please send me a mail ! in french or in english !
As I can't afford most of Ornithoptera specimens, I only collect their pictures. Have a look !
For further information on Butterflies and relevant web links visit :